This year's Christmas collection all started when we were guided to Jumbled, a one stop shop for fashion, art and homewares. Amy Gibbs happened to be their feature artist and her fluent, effortless style, with rich colours and textures, leaped off the page. We reached out to her and the rest is history! The brief was simple - produce a set of icons representing what Christmas in Australia meant to her.
It was fascinating to study her process. From line drawings to individual canvas paintings. Every image was joyous and meaningful. With Amy's original design in hand, we further developed the range to include bags, wrapping paper and tissue.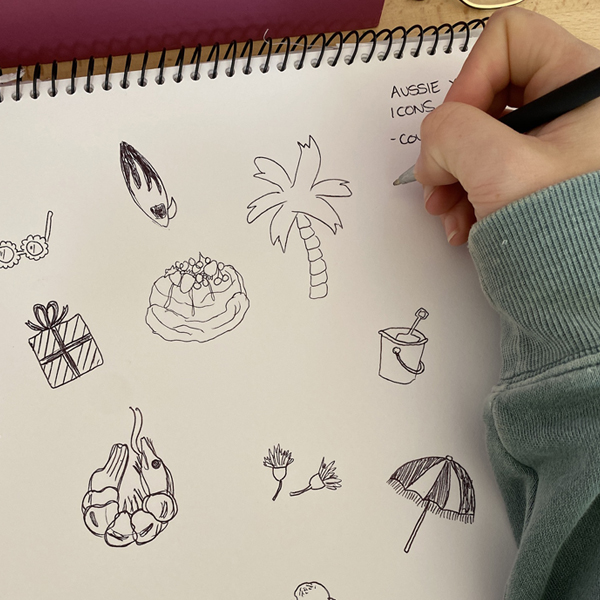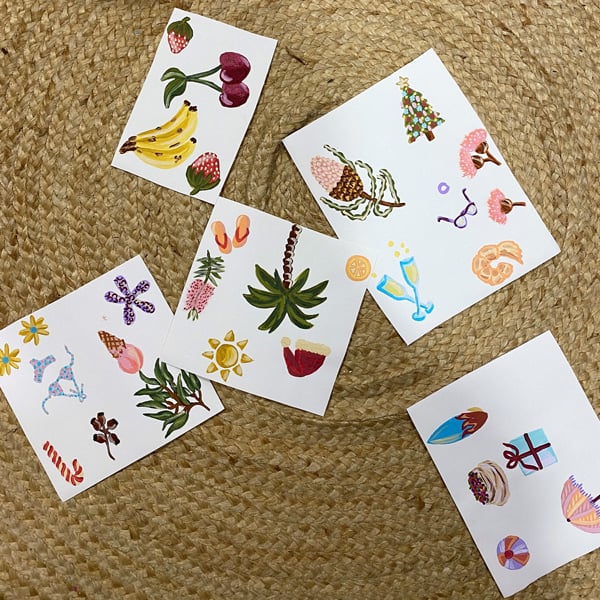 I try to find the right balance of planning a piece and just letting those creative juices flow. I had a brainstorm and mapped out all the aspects that, to me, represented Christmas time in Australia. From there, I put on some tunes and got into the creative zone, painting the elements and using all the fun colours. This project was particularly enjoyable as I got to combine my love of painting and textile design to create the finished product.

Where do you draw your inspiration from?
I truly find inspiration all around me! From the food I eat, the colours on clothing and the greenery on my walks. I am very lucky to live in an area with an abundance of native flora which inspires me every day. I LOVE Christmas; it's my favourite time of year. I tried to encapsulate everything that is a Christmas in the sun.

Your names are such fun - how do you come up with them?
Honestly, this is one of the hardest parts! Names can stem from anywhere - a song I was listening to, a feeling I experienced whilst creating, or something as simple as fun play-on words relating to the subject matter (I may or may not be partial to a cheeky pun!). I try go with whatever initially pops into my head; your first ideas generally tend to be the best!
And that's how 'Colour my Christmas' was brought to life. It's been a rewarding project for both PaperPak and Amy who was particularly excited to buy some of the range herself. "I'm excited to see the product and buy some to wrap my Christmas goodies in! My favourite part is seeing my work 'in the wild' - I hope people love it as much as I loved creating it," Amy said.

We hope you enjoy the new range and we look forward to sharing some more surprises in the new year.
Choose paper this festive season.