Are you sure? If you change your country now, any items you have added to your cart will disappear.
Your location
Please set your location to see relevant stock levels. Freight costs and taxes will be calculated once you log in.
Note: changing your location will empty your cart.
Edible Blooms commits to the environment through sustainable innovation
Edible Blooms is a global company with humble beginnings. Established in 2005 by sisters Kelly Jamieson and Abbey Baker, Edible Blooms is an online platform selling bouquets of chocolate, baked goods and fruits. Now with stores across capital cities of Australia, as well as locations in New Zealand, London, Geneva and Switzerland, Edible Blooms are looking at how they can reduce their impact on our environment.
Challenge
Edible Blooms was looking to innovate a sustainable packaging solution so their customers could feel as good about responsibly disposing of their bloom as they did about receiving it. Looking to make all of their packaging recyclable or reusable Edible Blooms worked with the Detmold Group on an alternative to the foam used to hold their bouquets together.
Each year the foam we were using equated to 65 cubic metres of landfill. We wanted to change our impact to be sustainable. We had already taken a series of small steps with our packaging towards our overall goal before we started working with the Detmold Group on an innovative cardboard solution.
Kelly Jamieson, Managing Director, Edible Blooms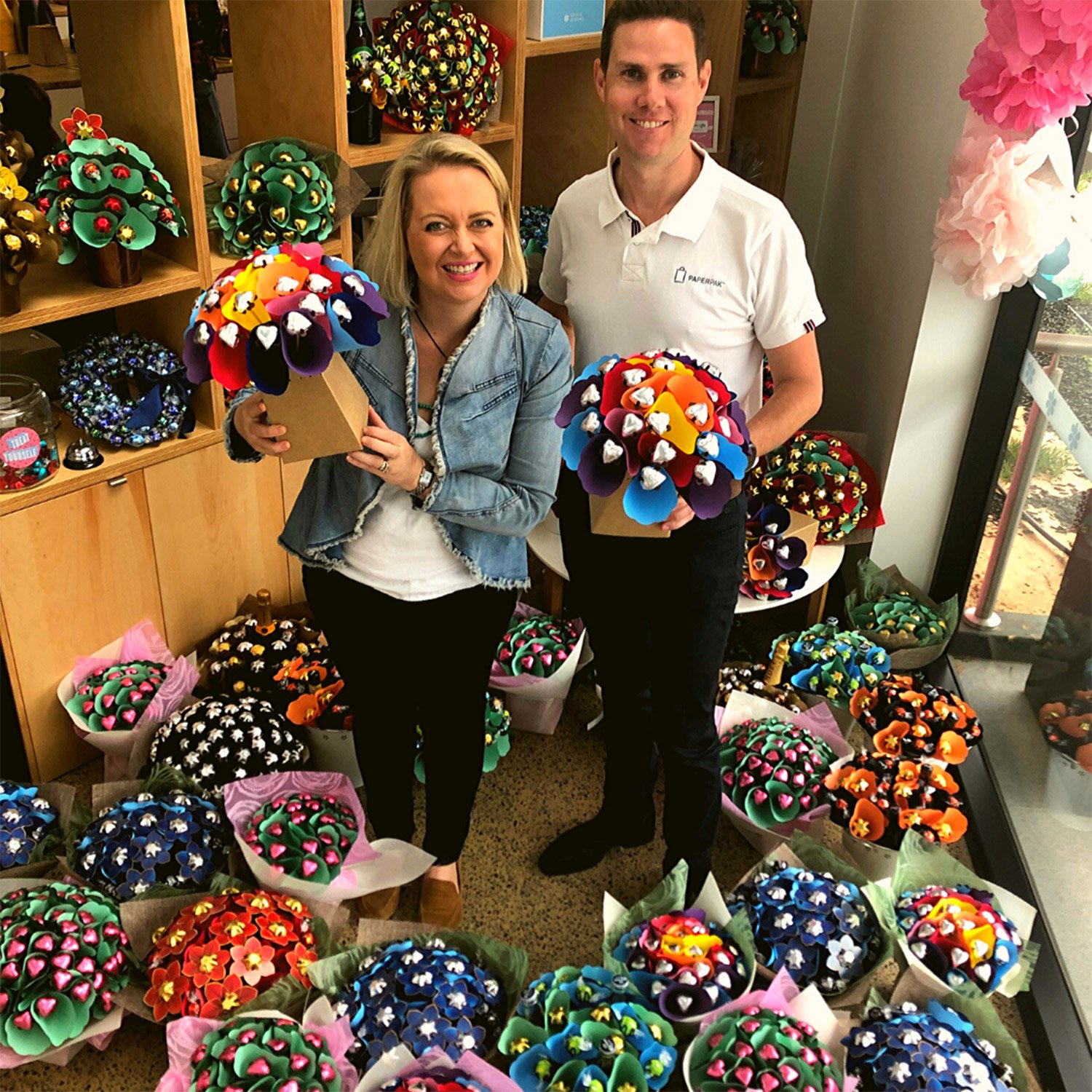 Process
Innovating this recyclable solution needed consideration of the current needs of the product. This involved 18 months of development to ensure the cardboard bases for the bouquet could handle the weight of the edibles, where the sticks would actually be able to poke into the base and the specific shapes to support different bouquet designs. With these blooms all being made by hand, the process involved considering existing production and how the new cardboard bases would impact on the creating of the blooms.
Foam is a very pliable construction base piece, so we had to factor in the ability to create multiple shaped bouquets with the insertion of our custom made sticks at various angles.
Kelly Jamieson, Managing Director, Edible Blooms
Impact
Not only have the newly innovated cardboard bases provided a sustainable solution – they've also assisted with storage, with the cardboard pieces coming flat packed. Fully recyclable, these innovative bases, alongside significant efforts from Kelly and the Edible Blooms team in other areas of their packaging, has provided a positive impact for the environment.
And the efforts from the team at Edible Blooms continues, with sustainable commitments in a number of other areas.
We started by reviewing our delivery box and packaging fill with recycled materials and then progressed to all components of our bouquet construction.
Our goal is that 100% of our delivery packaging is either reusable or recyclable. Our bouquets are also refillable using our patented bloom holders. This is a significant transformation for us in the past two years as we work on our sustainability goals.
Best of all, there is still more to come. Our next step is to track the carbon footprint of each delivery. Given that we despatch from local state based production facilities, we are already ahead of other e-commerce companies. But we see more opportunity to improve and increase transparency by measuring this impact.
Kelly Jamieson, Managing Director, Edible Blooms
Subscribe and Stay Informed
Receive the latest in products, trends, news, events and tips.