Country Road's Festive Twist
Iconic Australian lifestyle brand Country Road presented a Christmas twist with their festive packaging range, introducing a paper twist handle carry bag.
Taking inspiration from the brand's pastel-hued product collection, the range provided a unique packaging solution for the festive season – offering a noticeably different carry bag for Country Road customers.
Arriving in a range of sizes in statement colours, the new bag design was a collaboration between Country Road and family-owned Australian business PaperPak. Country Road have proudly partnered with PaperPak since 2017, utilising the brand for its traditional paper flat fold carry bag.
Country Road's Head of Visual Merchandising, Jason Tyrrell said the festive range promoted sustainability alongside functionality.
"This packaging range featured a new paper twist handle carry bag, rather than our traditional ribbon handle," Jason said.
"This change meant the bag could be recycled in its entirety, rather than a need for ribbon handles to be removed before placing the bag into kerbside recycling.
"We wanted to make it easy for our customers to responsibly dispose of our packaging.
"But we did so alongside ensuring functionality requirements were met.
"PaperPak's stringent testing and focus on quality meant that our carry bags were still strong enough to protect the contents during a busy shopping period," Jason said.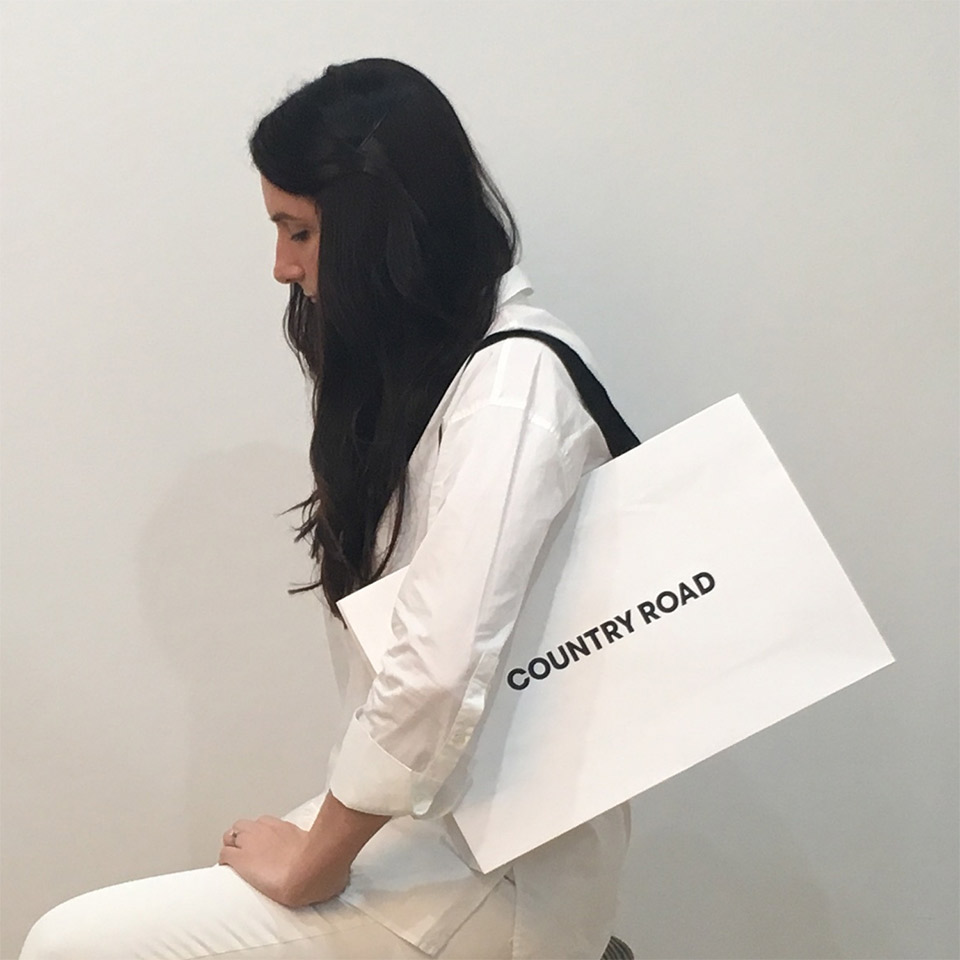 Jason said packaging itself plays a big part in the shopping and gifting experience for Country Road customers.
"If people have purchased items from us as presents for others, they often gift the item in the Country Road bag itself. Therefore, it was important for us to offer a look and feel that matched customer expectations of our products.
"In addition, the new bags incorporated a fold-over top, giving a premium finish. The three bright colours helped to enhance the festive look.
"We also utilised the heritage Country Road logo to remind our customers of the longevity of the Country Road brand and what we stand for," Jason said.
For Country Road, considerations in sustainability are important and need to align with the brand's desire to protect what matters.
"At Country Road we strive to ensure every resource we use comes from supply partners who prioritise sustainable practices," Jason said.
"We support ethical trade and transparency across all aspects of our production and supply chains.
"This helps us reduce waste, increase efficiency and protect natural resources so that the welfare of people, animals and the environment is a top priority.
"PaperPak align with this brand vision through their commitment to ethical material sourcing and responsible manufacturing processes. We know our customers want packaging items which align with the sustainable ethos of our brand.
"This is why we introduced a fully recyclable festive range of packaging, and why we are always looking at how we enhance our everyday range to reflect our values," Jason said.